New Jersey governor and Republican candidate says movement is creating an environment that puts officers at risk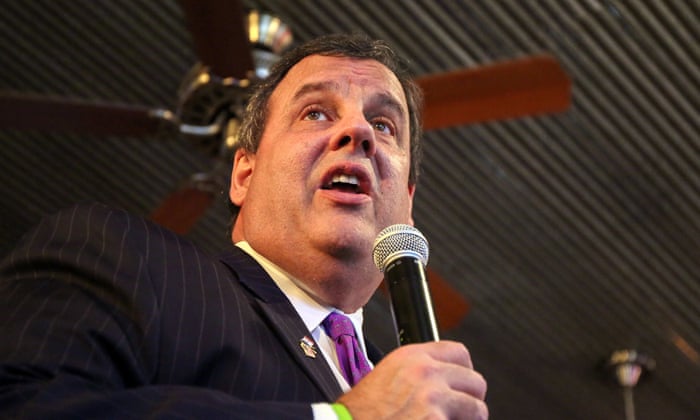 The Republican presidential candidate Chris Christie said on Sunday the Black Lives Matter protest movement was creating an environment that could put police officers at risk.
Speaking on CBS, he said: "I don't believe that movement should be justified when they are calling for the murder of police officers."
He also accused President Obama of supporting the movement and encouraging "lawlessness" while not backing up law enforcement.
Protests under the Black Lives Matter banner have coalesced around a number of deaths of African American people, most often unarmed, at the hands of police officers.
The movement first organized after the 2012 shooting of Trayvon Martin, an unarmed teen, by George Zimmerman, a neighborhood watch leader who was later acquitted of charges regarding Martin's death.
Other high-profile deaths have included those of Michael Brown in Ferguson, Missouri and Eric Garner in Staten Island, in New York City. No officer was charged over the deaths of Brown and Garner, leading to protests and – in Ferguson – extensive civil unrest.
In September, Black Lives Matter said in a statement that conservatives were trying to turn the movement into a danger to officers.
"We're targeting the brutal system of policing, not individual police," the movement said on its Facebook page. "The Black Lives Matter Network seeks to end the system of policing that allows for unchecked violence against black people."
Christie, the governor of New Jersey and a former US attorney, presents himself as a tough voice on law and order issues. He is nonetheless well down in polls regarding the 15-strong Republican presidential field.
On Sunday he said Black Lives Matter was "creating" an environment, as, he said, some of its supporters had chanted for the death of police.
Obama last week defended Black Lives Matter, urging the nation to take police treatment of black Americans seriously.
"We, as a society, particularly given our history, have to take this seriously," Obama said.
Article continues:
http://www.theguardian.com/us-news/2015/oct/25/chris-christie-police-risk-black-lives-matter