Kelley Hoggan's dismissal comes after a hearing on long airport security lines, with travelers in Chicago complaining of two-hour waits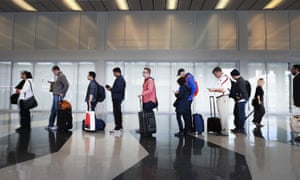 The head of security for the US Transportation Security Administration has been removed from his position, the US House of Representatives oversight committee said Monday on Twitter.
The House panel, which held a hearing 12 May on long lines at airport security checkpoints, did not give a reason for Kelly Hoggan's dismissal as TSA assistant administrator for security operations.
Members of the committee criticized the TSA for awarding more than $90,000 in bonuses and awards to Hoggan over a 13-month period.
TSA did not immediately respond to a request for comment.
This month, a video of an extremely long security line at Chicago's Midway airport went viral, with travelers complaining of waits up to two hours. The week before, the TSA had warned that short staffing could lead to delays.
http://www.theguardian.com/us-news/2016/may/23/tsa-kelly-hoggan-head-security-removed-hearing