Feature – which flags content as 'disputed' – trialled on story that falsely claimed thousands of Irish people were brought to the US as slaves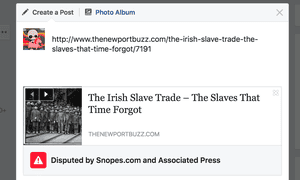 Facebook has started rolling out its third-party fact-checking tool in the fight against fake news, alerting users to "disputed content".
The site announced in December it would be partnering with independent fact-checkers to crack down on the spread of misinformation on its platform.
The tool was first observed by Facebook users attempting to link to a story that falsely claimed hundreds of thousands of Irish people were brought to the US as slaves.
Titled "The Irish slave trade – the slaves that time forgot", the story published by the Rhode Island entertainment blog Newport Buzz was widely shared on the platform in the lead-up to St Patrick's Day on 17 March.
For some users, attempting to share the story prompts a red alert stating the article has been disputed by both Snopes.com and the Associated Press. Clicking on that warning produces a second pop-up with more information "About disputed content".
"Sometimes people share fake news without knowing it. When independent fact-checkers dispute this content, you may be able to visit their websites to find out why," it reads. "Only fact-checkers signed up to Poynter's non-partisan code of principles are shown."
The Poynter code promotes excellence in non-partisan and transparent fact-checking for journalism. The pop-up also links to Snopes.com, AP and Facebook's official help page.