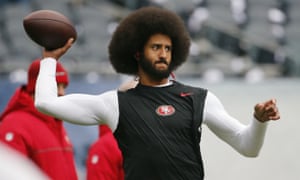 As the National Football League's offseason plods along, marginal quarterbacks across the football world are getting scooped up. Mike Glennon, a third-round pick by the Tampa Bay Buccaneers in 2013, received $18.5m guaranteed from the Bears despite having just five NFL wins and a wholly mediocre 84.6 quarterback rating under his belt. Career backup Josh McCown found himself a $6m deal with the New York Jets. These two join the list of wholly unimpressive quarterbacks to sign free agent deals this season: Brian Hoyer ($9.85m guaranteed), Nick Foles ($7m), Landry Jones ($600,000) and Matt Barkley ($500,000) have all found work this offseason, and all have the potential to earn at least $4m should they make their respective rosters.
Colin Kaepernick, meanwhile, remains unsigned despite a track record that far outpaces any of the above-mentioned signal-callers. According to Pro-Football-Reference.com, Kaepernick was an above-average quarterback by both QB rating and adjusted yards per passing attempt in 2016, and he also added a strong 468 yards on 6.8 yards per carry with his speed. Spotrac, which tracks major professional sports contracts and transactions, analyzed Kaepernick and found that similar players had signed contracts with an average salary of $14.75m and a duration of 2.5 years. Looking at those comparable players and Kaepernick's statistics over his career, SpoTrac calculated Kaepernick's market value as worth $14,226,196 for a one-year contract. And yet, it has been the Mike Glennons and Brian Hoyers of the world finding the money at quarterback this offseason.
The key difference, of course, is that neither Glennon nor Hoyer nor any of the other white quarterbacks to sign contracts this offseason have spoken out against the injustices of police brutality like Kaepernick did with his protests of the national anthem this past season. Suspicions that teams were blacklisting Kaepernick were confirmed this past week when Mike Freeman, Bleacher Report's lead NFL writer, reported that roughly 70% of NFL teams are unwilling to sign Kaepernick not because they don't believe he can play, but as punishment for expressing his political beliefs.
"The rest genuinely hate him and can't stand what he did," an anonymous AFC general manager told Freeman. "They want nothing to do with him. They won't move on. They think showing no interest is a form of punishment. I think some teams also want to use Kaepernick as a cautionary tale to stop other players in the future from doing what he did."
It doesn't matter to them that Kaepernick has expressed a willingness to stand for the anthem in future seasons, as sources told ESPN's Adam Schefter earlier this month. Kaepernick's decision to spit in the face of authority last season stings too much to let it go. One executive Freeman talked to called the quarterback "an embarrassment to football".
The whole thing bears whiffs of Craig Hodges' experiences in the NBA 25 years ago. Hodges was known for being a sharpshooter, a three-point specialist who helped Michael Jordan's Bulls to their first two championships in 1991 and 1992. Hodges was also the three-point contest winner in 1992, and was the owner of a brilliant 42.5% mark from three-point range over his four seasons with the Bulls. He was outspoken about a number of issues, ranging from poverty in the black community in Chicago to the first Gulf War, which he vehemently opposed.
After the Bulls won the 1992 championship, Hodges showed up to the club's customary White House congratulatory ceremony in a full-length dashiki with an eight-page letter intended for President Bush. It read, in part:
"The purpose of this note is to speak on behalf of the poor people, Native Americans, homeless and, most specifically, the African Americans, who are not able to come to this great edifice and meet the leader of the nation where they live," his letter began. "This letter is not begging for anything, but 300 years of free slave labor has left the African American community destroyed. It is time for a comprehensive plan for change. Hopefully, this letter will help become a boost in the unification of inner-city youth and these issues will be brought to the forefront of the domestic agenda."
Hodges was cut by the Bulls that offseason, and that would be his final NBA job. Over the subsequent years, Hodges played in both international professional league and barnstorming leagues in the United States in efforts to earn his way back into the league, but the call never came. The only executive he could even get to return his calls was Billy McKinney, the director of player personnel for the Seattle SuperSonics. McKinney, a black man, told Hodges, "brothers have families if you know what I mean."
NBA owners and executives had their excuses. "I never heard of any conspiracy whatsoever," Wayne Embry, president and COO of the Cleveland Cavaliers, told the New York Times. "I'm sure I would have if there was one. And in a league that has about 80% black players, it's hard to charge racism." Meanwhile, David Stern used the word "ridiculous" to describe conspiracy charges. "I was even at the White House when Craig wore the dashiki. I thought it looked great, and I told him so," Stern told the Times in a weak effort to prove his innocence.