David Deleiden and Sandra Merritt charged with 15 felonies in California for covert recordings of their attempts to buy fetal tissue from women's clinics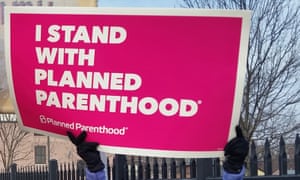 California prosecutors have charged two anti-abortion activists who made undercover videos of themselves trying to buy fetal tissue from Planned Parenthoodwith 15 felonies, saying they invaded the privacy of medical providers by filming without consent.
State attorney general Xavier Becerra announced the charges on Tuesday against David Daleiden of Davis, California, and Sandra Merritt of San Jose. The two operate the Irvine-based Center for Medical Progress.
The allegations say the pair filmed 14 people without permission between October 2013 and July 2015 in Los Angeles, San Francisco and El Dorado counties. One felony count was filed for each person. The 15th was for criminal conspiracy to invade privacy.
Becerra says they used a fictitious bioresearch company to meet with women's healthcare providers and covertly record them.
Daleiden, in an email to the Associated Press, said the "bogus" charges were coming from "Planned Parenthood's political cronies".
"The public knows the real criminals are Planned Parenthood and their business partners," Daleiden said.
Planned Parenthood – which has previously said the videos were "heavily edited to deceive the public" – welcomed the charges, saying they sent "a clear message: you can't target women and healthcare providers without consequences".