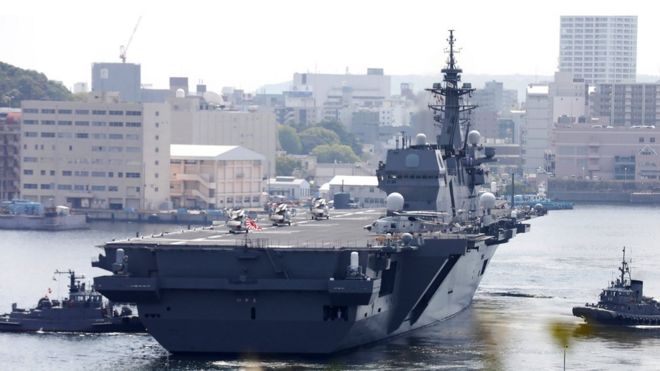 The pride of Japan's naval defence, the JS Izumo, is making an unprecedented journey through Asian waters over the next three months.
The Izumo is the largest vessel built by Japan since the end of World War Two – and she looks very much like an aircraft carrier. She has already participated in Singapore's first ever fleet review, an international naval gathering with fleets from Asia and beyond to demonstrate their power.
There is growing support in Japan for a more strident response to Chinese military assertiveness around Japanese waters and Japan's Maritime Self-Defense Force has been increasingly active in the region.
It is all part of Japanese Prime Minister Shinzo Abe's determination to loosen constitutional strictures over the role of Japan's self-defence forces.
The sea is where this is playing out right now.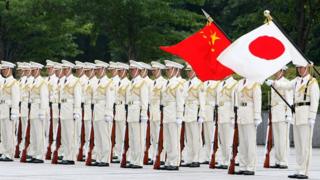 Japanese navy officials are careful to describe the ship as a "helicopter destroyer" capable of carrying more than 20 helicopters from its expansive flight deck, and thus playing down any offensive capabilities forbidden under Japan's constitution.
Against the backdrop of China's narrative of suffering and humiliation at the hands of Japanese imperial forces during World War Two, the transit of the Izumo through the South China Sea is particularly sensitive for China, since Japan has been very vocal in its support of a ruling by the Permanent Court of Arbitration overwhelmingly against China's claims to a large expanse of the South China Sea and its features.
Japan's new military role
The widening of Japanese naval operations in the South China Sea and beyond is also a response to a more pressing concern for Japan: China's own relentless drive to dominate the waters around Japan.
Chinese critics of Japan's naval modernisation will point out that with a few minor adjustments, this ship could carry vertical take-off and landing fighter jets, including the F-35 stealth fighter.
For China, therefore, the Izumo and the latest additions to the JMSDF fleet are both a symbol of a new era of military expansionism under Prime Minister Abe's administration and a painful reminder of China's wartime suffering and the destruction wrought by Japan's powerful carrier fleet of World War Two.