Anthony Barrs and Baiyu Chen's Hyperlane system proposes clusters of self-driving cars zipping past local traffic at 100mph, controlled by a central computer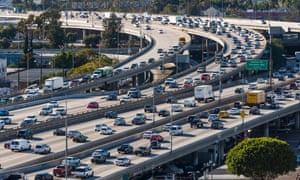 These days there are so many self-driving cars coming down the pipeline it seems inevitable they'll soon be stuck in a robot traffic jam – just like the human-piloted cars of today. Well, not if Anthony Barrs and Baiyu Chen get their way.
The two graduate students at the University of California, Berkeley, have devised a system that would have tightly-packed clusters of autonomous vehicles zipping past local traffic at speeds of more than 100mph, all on existing roadways. They call it Hyperlane, and it works a lot like high-speed toll lanes already do, only with a central computer controlling everything.
Although fully autonomous cars are not yet legal on most public roads, manufacturers like Volvo and Tesla already offer autonomous features on their vehicles – adaptive cruise control and, in some cases, systems that steer the car with limited driver input.
Barrs and Chen came up with Hyperlane after taking a close look at proposed high-speed rail systems like the troubled Los Angeles to San Francisco route. The bottom line is that high-speed rail is expensive – at its current, ever-rising cost estimate, the California rail project would cost $139m per mile. So the two researchers concocted a mashup of bullet train and dedicated toll lane, which they say would only cost about $12m per mile.
"Long story short: high-speed rail didn't pencil out over here," Barrs said of the perennially back-burnered California rail project. "We're primarily looking at cities with major nodes that need to be connected, where high-speed would create high value."
Barrs and Chen said Hyperlane would work well in the San Francisco Bay area, as well as in metropolitan regions like Dallas-Ft Worth and Baltimore-Washington. It wouldn't work in high-density metro areas with no space to expand roads – New York City, for example – or in medium- and low-density cities where lower traffic volume wouldn't justify the cost of construction.