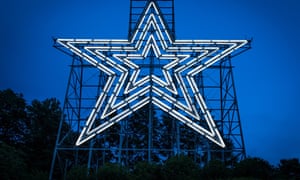 "The state ends at Roanoke, we are the forgotten corner of Virginia," said local Democratic activist Oliver Keene of Tazewell, where 20% of the town lives in poverty. "In our eyes, past Roanoke, nobody cares about us. We don't exist."
Campaigning for statewide office, most Democratic candidates have typically ignored the deep red Appalachian corner of the state where Trump won many of the counties by 70% margins.
However, in his quest to become governor of Virginia, former congressman Tom Perriello has made campaigning in south-west Virginia a priority. "There is a lot of pain there and a lot of potential," said Perriello. When the polls close on Tuesday, all eyes will be on whether his progressive agenda, embrace of unions and rejection of corporate money could form a blueprint for Democrats preparing to run against Trump in the midterm elections.
So far his effort seems to be paying off in his battle to defeat the much more moderate Democratic lieutenant governor Ralph Northam. According to the most recent Washington Post opinion polling, the two are locked in a neck-and-neck battle statewide while leading Northam by a margin of nearly three to one in south-west Virginia.
Perriello's success here isn't the result of a traditional Virginia campaign. Unlike most Appalachian politicians, Perriello isn't embracing coal or natural gas. Instead, he is calling for moving away from what calls an "economy of extraction" towards "an economy of restoration".