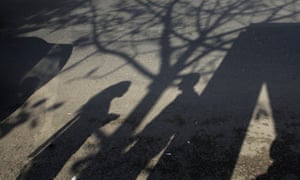 One Monday in January, Aaliyah Palmer, 19, spent several hours telling law enforcement in Fayetteville, North Carolina, that she had been raped.
Things started out OK, she said, in a consensual encounter in a bathroom. But when the man having sex with her began tearing out her hair, she demanded he stop; he didn't.
It was here a detective interrupted Palmer's account with a question. At any time after she said no, did her attacker stop having sex with her, then penetrate her once again?
Yes, Palmer said.
"OK," the detective replied, according to Palmer. "That's important."
It was important because in North Carolina, a person cannot withdraw consent for sex once intercourse is taking place. Because of a 1979 state supreme court ruling that has never been overturned, continuing to have sex with someone who consented then backed out isn't considered to be rape.
"The whole thing is ridiculous," Palmer told the Guardian. "It's crazy."
The North Carolina law is an example of how the US legal system has not always kept pace with evolving ideas about rape, sex and consent. Just last year, an Oklahoma court ruled that the state's forcible sodomy statute did not criminalize oral sex with a victim who is completely unconscious. The toughest charge available to prosecutors was unwanted touching.
But the North Carolina law appears to be unique. And it has shocked even those who are used to dealing with such legalistic vagaries.
"It's absurd," said John Wilkinson, a former prosecutor and an adviser to AEquitas, a group which helps law enforcement pursue cases of sexual violence. "I don't think you could find anyone today to agree with this notion that you cannot withdraw consent. People have the right to control their own bodies. If sex is painful, or for whatever reason, they have the right to change their mind."
The ruling has devastated victims and frustrated prosecutors in North Carolina for years. State senator Jeff Jackson, who has introduced legislation to amend the law, encountered a similar case when he was a criminal prosecutor. His office was ultimately forced to dismiss the rape charge.