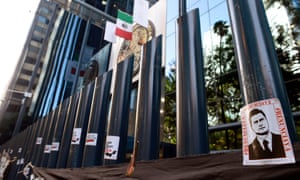 The text messages seemed innocuous enough when they buzzed onto the smartphone of Roberto Gil, a senior member of Mexico's opposition National Action Party.
"I wanted to share this report from [the Mexican newsweekly] Proceso where your name is mentioned," said one.
"My husband just died. I'm sending you information about the wake," read another.
"Do you see what the PRD [another opposition party] is saying about us? Take a look," said the third message.
Each message carried a link, however, and once clicked they would have immediately allowed sophisticated spy software to infect his phone, tracking keystrokes, accessing contact lists and taking control of the phone's cameras and microphone.
The spy software – known as Pegasus and made by the Israeli firm NSO Group – is only sold to governments, supposedly for use against terrorists and criminals. But an investigation by researchers at the University of Toronto revealed that it was deployed against Mexican anti-corruption crusaders, journalists investigating the president and activists pushing for a soda tax.
Now the spying scandal has escalated after researchers showed that the same software was used to target senior members of the rightwing PAN party.
Opposition politicians and civil society activists alike have reacted with outrage at the revelation that they had been targeted alongside the crime groups which have pushed violence in Mexico to its highest levels in 20 years.