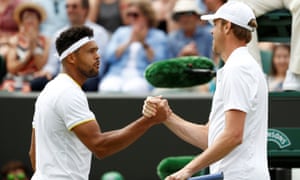 Jo-Wilfried Tsonga suffered the indignity of losing his third-round tie with Sam Querrey in four minutes as the match, suspended on Friday night, entered a second day. With a fifth set going with serve, but at a potentially climactic score of 6-5, play was called off for bad light at 8.58pm on Friday. Returning at 1pm on Saturday, Tsonga stepped up to serve but the Frenchman played eight points before exiting the tournament.
"I am frustrated, but nothing more," Tsonga said, refusing to blame the suspension for his 6-2, 3-6, 7-6 (5), 1-6, 7-5 defeat. "But the light was difficult last night. If we had continued – and I had not seen a return and missed it – I would have been very disappointed.
"I won more points than [Querrey] but I know how tennis works. He was opportunistic. I'm not at all surprised at the way he played; we've played here before in the same conditions and had to stop for the night then."
Querrey and Tsonga's previous encounter here came in the second round in 2014. It was another five-setter, featuring two tie breaks, which Tsonga finally won in the last set, 14-12.
Querrey said he had never played in a similar situation before, warming up, playing one game, then going off again. "Outside of this tournament there's no situation where there's no lights," the American said.
"I made the offer to play one game last night, but we were in a situation where no one really wanted to play. Hawk-Eye doesn't work in those situations and I'm reluctant to play without it.
"It was anticlimactic to finish in that way but I'll take the one-game victory."
Perhaps the match of the day came on court 12, where the Frenchman Adrian Mannarino came from behind to knock out his compatriot Gaël Monfils, the No15 seed, 7-6 (3), 4-6, 5-7, 6-3, 6-2 in a match that lasted three and a half hours.
Monfils had looked to be heading through to the second week for the first time as he produced some sparkling play in the second and third sets. But Mannarino, who had beaten a top-20-ranked player once in a major, somehow managed to raise his level again, and even broke Monfils twice in the final set. His reward is a fourth-round tie against Novak Djokovic.
There was serene progress for the men's big servers. Last year's losing finalist, Milos Raonic, went through with a straight-sets win over the No25 seed, Albert Ramos-Viñolas, 7-6 (3), 6-4, 7-5.