Some questioned whether activists had protested less over the death of a White Australian woman. Friday night's anger at mayor Betsy Hodges and the departure of the city's police chief answered that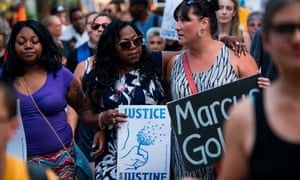 Valerie Castile, centre, mother of shooting Philando Castile, marches in memory of Justine Damond on Thursday in Minneapolis. Photograph: Stephen Maturen/AFP/Getty Images
In the aftermath of the police shooting of Justine Damond, many on the right of the political spectrum asked on social media: "Where are the protests now?"
The claim was clear: when a black cop killed a white woman, Black Lives Matter, or other African American activists pushing for police reform, would not be quick to protest.
That narrative went mainstream on Wednesday, in a piece by CNN writer Doug Criss. Criss noted that a vigil was held for Damond the day after the shooting, but added that "there weren't widespread protest marches, like the ones Black Lives Matter held last year after Philando Castile's shooting death at the hands of an officer in nearby Falcon Heights".
Criss went on to quote David Love, a journalist who writes on race issues whom Criss said had not "seen too many people from the movement express any anger or outrage about the shooting".
They spoke too soon. Any doubts about the diverse nature of the groups rallying around Damond's case were answered on Friday, during a media conference Minneapolis mayor Betsy Hodges held to explain her decision to ask for the resignation of police chief Janeé Harteau in the wake of the Damond shooting.
Hodges was only a few sentences in when protesters began streaming in the door. One of them, John Thompson, a friend of Philando Castile who has become a fixture at protests after Castile's death, quickly interrupted her, asking her to resign. Soon afterward he and another community activist, Chauntyll Allen, were leading the now crowded room in chants of "If Justine don't get it, shut it down", echoing a similar cry used during the protests against Castile's shooting.
Whatever one thinks about their tactics, the group of protesters that interrupted that media conference on Friday was diverse, with a large contingent of young white protesters and several long-time black activists in the lead. Was this is a new trend that Criss and Love had missed?