'These individuals are known for pranking high-level officials,' spokeswoman says, after duo tricked Perry into thinking he was talking to Ukrainian PM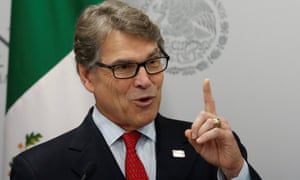 The US energy secretary Rick Perry has become the latest victim of a pair of Russian phone pranksters who have previously fooled Elton John into thinking he was chatting to Vladimir Putin.
On this occasion, Perry believed he was discussing American coal exports with Ukraine's prime minister, Volodymyr Groysman. In fact, he was talking to Vladimir Krasnov and Alexei Stolyarov, Russian pranksters who have become known for targeting celebrities and politicians with audacious stunts, energy department spokeswoman Shaylyn Hynes confirmed.
Suspicions might have been raised when the 22-minute conversation turned to a claim by the pretend PM that the Ukrainian president Petro Poroshenko had invented a new biofuel made from home-brewed alcohol and pig manure, according to a translation reported in the Washington Post.
The energy secretary – who appeared to be relying on a translator during the conversation – welcomed the idea as "interesting". He would be visiting Kiev in August, he told his caller. "I look forward to visiting with the president and getting a more in-depth briefing … If that's the result, then he's going to be a very, very wealthy and successful man."