US military will continue to permit transgender individuals to serve openly until Defense Secretary Jim Mattis receives Trump's 'direction' to change policy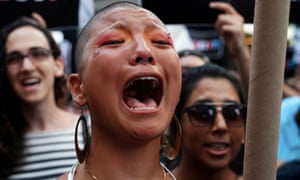 US defense chiefs have pushed back against Donald Trump's attempt to ban transgender people from serving in the military, saying the policy would not be overturned until they received formal direction to do so.
In a rebuke to Trump's attempt to run the government and military via Twitter, Gen Joseph Dunford, America's top military officer, said on Thursday that the armed forces would continue to permit transgender people to serve openly until the defense secretary, Jim Mattis, has received Trump's "direction" to change the policy and figured out how to implement it.
In a memo to all military service chiefs, commanders and enlisted military leaders, Dunford, chairman of the joint chiefs of staff, said "there will be no modifications" to current policy for now, amid questions about Trump's announcement on Twitter that the US government will not "accept or allow" transgender people to serve in any capacity in the military.
"I know there are questions about yesterday's announcement," Dunford began, adding that nothing would change until the president's direction has been received by Mattis and Mattis has issued "implementation guidance".
"In the meantime, we will continue to treat all of our personnel with respect," Dunford wrote. "As importantly, given the current fight and the challenges we face, we will all remain focused on accomplishing our assigned missions."