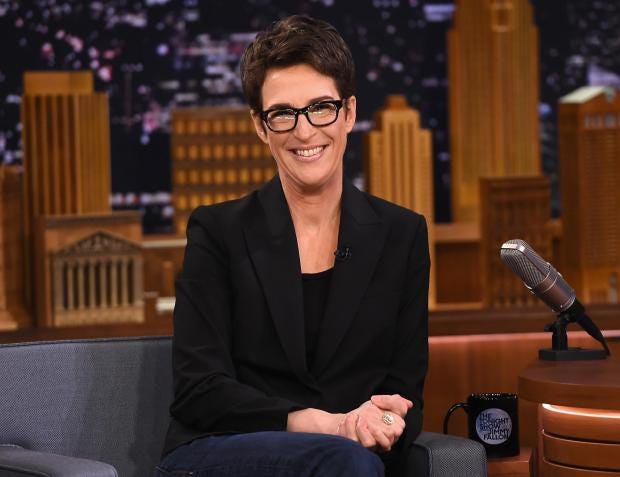 Rachel Maddow of MSNBC is now said to be the most popular personality in prime-time cable news – a title that has been claimed by Fox News TV hosts since 2001.
Ms Maddow's network also achieved other milestones in July, including its closest finish to Fox since 2000 and its largest margin of victory ever over CNN. While cable ratings across the board surged throughout the first six months of Donald Trump's chaotic presidency, The Rachel Maddow Show, launched nearly 10 years ago, appears to have particularly benefited amid the actions and controversies involving the unpredictable US leader.
Ms Maddow's audience alone has almost tripled, from 849,000 nightly viewers in 2014 to more than 2.3m in June, according to Rolling Stone.
In a June interview with the magazine, Ms Maddow – a self-declared liberal and the first openly gay anchor to host a major prime-time news programme in the US – said her rule for covering the Trump administration was: "Don't pay attention to what they say, focus on what they do…because it's easier to cover a fast-moving story when you're not distracted by whatever the White House denials are."
Janet Reitman, a contributing editor at Rolling Stone who interviewed Ms Maddow, told the Independent the TV host is "both incredibly bright and also relateable, without being fake about it."
"She is who she is, and she has a take on the news that, certainly for liberal audiences, probably makes them feel like they're talking to this really cool, super-smart friend who isn't trying to blow them a bunch of smoke."
"While she's as guarded as you must be for TV news, she presents herself as very genuine and I think audiences relate to that," Ms Reitman added. "I also think part of her appeal is that she's not really 'TV' – she's very much about the subject she's covering".