Sheriff taken to hospital after inhaling chemicals at Arkema plant in Crosby that was flooded by waters from tropical storm Harvey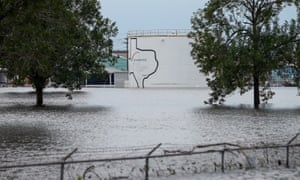 The Arkema chemical plant in Crosby, Texas. Photograph: Godofredo A. Vasquez/AP
Two explosions have taken place at a chemical plant in Crosby, Texas, that lost power due to flooding caused by tropical storm Harvey.
A sheriff's deputy was taken to hospital after inhaling chemical fumes, and nine others drove themselves to hospital as a precaution. The plant makes organic peroxides used in the production of plastic resins, polystyrene, paints and other products.
Arkema, the industrial chemical manufacturer that runs the plant, said it was notified at approximately 2am by the Harris County Emergency Operations Center of two explosions and black smoke.
"Organic peroxides are extremely flammable and, as agreed with public officials, the best course of action is to let the fire burn itself out," the company said.
"We want local residents to be aware that product is stored in multiple locations on the site, and a threat of additional explosion remains. Please do not return to the area within the evacuation zone."