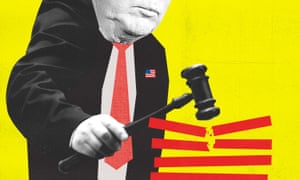 If you want to know why President Trump's appointments to the judiciary are so significant, have a look at these numbers.
In 2015, the US supreme court decided approximately 82 cases. In 2016, it was approximately 69. In contrast, the United States courts of appeals decided 52,000 cases in 2015 and 58,000 in 2016. The United States district courts decided 353,000 cases in 2015 and 355,000 in 2016.
While the supreme court is the court of last resort – and the one that attracts most attention – the judicial business of the United States is decided in what are called "the lower courts." The judges appointed to these courts decide 99.9% of all cases.
Most cases never reach the supreme court. It is the so-called lower courts that play a critical role in deciding a wide range of issues. These judges have decided cases involving voting rights, contraception, privacy, sentencing, prisoner rights, gay rights, immigration, desegregation in schools and housing, employment discrimination, affirmative action, workplace rules, environmental impacts, and many others that shape US society. The impact of their decisions are felt daily by more than 300 million Americans.
This is the background needed to understand the importance of Trump's judicial nominations during his first year in office. Much has been made of the administration's legislative failures but Trump's judicial appointments are calculated to have a more lasting impact on American life than many if not all of his proposed legislative initiatives.
Unlike legislation, these life-time appointments are not reversible. That is why it is so important to scrutinize who he is placing on these benches, and what impact they will have.
There are now approximately 144 vacancies in the federal courts, and Trump has already succeeded in appointing 14 judges, meaning that he began his term with more than 150 vacancies –10% of the federal judiciary.
There is a simple reason this president had so many vacancies to fill at the start of his term – it is called political obstruction. In the final year of the Obama administration, the Republican majority simply refused to confirm many of the president's nominees.
A number of nominations simply lapsed without a committee hearing and never reached the Senate floor.
Trump has now nominated 16 judges for the courts of appeals, and 44 judges for the district courts to fill these vacancies. A mere 11 of these nominations are female (18.3%). Only one nominee is African American and only one is Hispanic (each 1.6%).
By contrast, in his eight years in office, President Obama appointed 324 judges, of whom 41.9% were women, 19% were African American and 10% were Hispanic.
Although white males make up only 31% of the US population, they account for approximately 80% of the president's picks. People trust their courts when the judges reflect the makeup of the population they serve. But it is not just the gender and racial makeup of Trump's appointments that merit scrutiny. There are other reasons for concern.
Four of Trump's nominees have been given a "not qualified" rating by the American Bar Association – an institution that has recently been ousted from the vetting process, despite having assisted previous presidents with the vetting since 1953. Prior to these four, no other nominee has received this rating in the past 30 years.