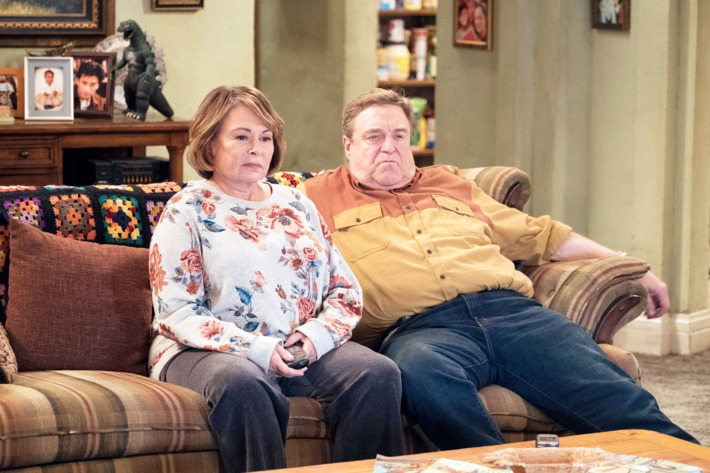 It usually takes time for big cultural waves to crest into the world of television. The morning after the 2016 election, ABC executives had an infamous meetingabout how to better represent Trump voters with their programming, and it took about a year for the green-lit shows — most notably, Roseanne — to finally show up on TV. This spring, about six months after the first Harvey Weinstein stories broke, we're starting to see bits of #MeToo in TV story lines.
But early this morning, only a few hours after Roseanne Barr tweeted a racist slur against former White House staffer Valerie Jarrett, ABC announced that it was canceling Roseanne. "Roseanne's Twitter statement is abhorrent, repugnant and inconsistent with our values, and we have decided to cancel her show," ABC president Channing Dungey's statement read. Suddenly, TV seems to be moving fast.
To go from racist tweet to ABC's one-sentence press release in a few hours is a swift course of events. It feels particularly fast because this specific Titanic of a TV show seemed so monumental, so impossible to turn around, and so deeply embedded in how we think about the state of television and culture in 2018. How could you cancel it, especially when it seemed to be a legitimate profit-earner? Roseanne had joined a small cohort of lightning rods — like Hillbilly Elegy, Black Panther, and Last Man Standing — that felt like Cultural Objects We Point to So We Can Talk About Life Right Now. If ABC canceled it, then what would we all argue about? (This is a joke; obviously that isn't something anyone has trouble finding an excuse for right now.)
For all of those reasons, Dungey's decision to cancel Roseanne feels like a gutsy move. It looks like a stand against racism, a line drawn in the sand to delineate what is reasonable and what is not. It even looks like a data point in the "How do we separate the art from the artist?" debate, and it offers a heartening answer: We don't have to, because, in this case, ABC will not finance that artist. It's somehow even more heartening because it comes from a massive corporate conglomerate that might lose money by making this decision. It feels remarkably just. It feels decent.
I'm thrilled that Roseanne has been canceled. It was the right thing to do. But it doesn't feel correct to hold up ABC as a new bastion of decency, either. I said that Roseanne felt like the Titanic, a ship that seemed too big to turn around — but in the aftermath of Barr's tweet, it also seemed like a ship that was doomed. Earlier this month, we learned that writer and showrunner Whitney Cummings was leaving the show, and she mentioned that she'd been frustrated with her inability to take the show in the creative direction she'd wanted. This morning, after Barr wrote her tweet, Wanda Sykes announced that she wouldn't return as a consulting producer. Emma Kenney, the actress who played Roseanne's granddaughter, tweeted that she'd been about to call her manager to withdraw from the show as well. ABC's decision to cancel Roseanne is a good thing, but it also seems like a decision to shut down something that was about to implode anyhow.