There are two broad types of tear gas—and they're both engineered to cause pain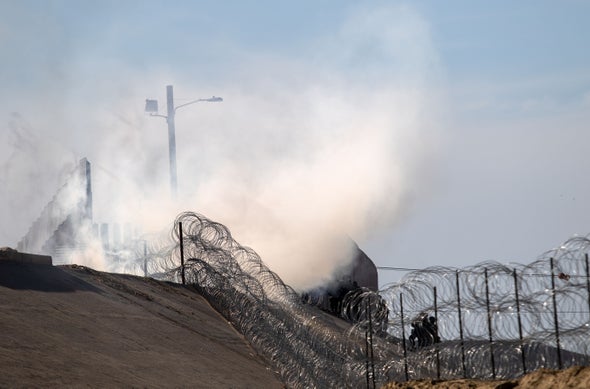 Before the tearing, the choking and the pouring mucus, tear gas burns. It causes searing pain in the eyes, skin, lungs and mouth—or anywhere it touches. "It can be overwhelming and incapacitating. You can be forced to shut your eyes and cannot open them," says Sven-Eric Jordt, an anesthesiologist at Duke University. And then comes the coughing and the nausea and the vomiting. What causes these chemicals to have such devastating effects on the human body?
Jordt has studied tear gas for over a decade, but he doesn't think tear gas is the best term for the weapon. First, he says as a technical point, they're not gases; they're powders that billow into the air as a fine mist. "I think of tear gas as a pain gas," he says. "Because it directly activates pain-sensing receptors." Weapons like sarin gas cause muscle paralysis that can lead to suffocation. These are designed to kill, while tear gas' purpose is to repel crowds through maximum misery. Specifically, all tear gas agents activate one of two pain receptors, TRPA1 or TRPV1, and can be classified into two broad categories based on which of those receptors they activate.
The first category, TRPA1-activating agents, includes the chemical called 2-chlorobenzalmalonitrile or CS gas. This is one of the agents used by U.S. law enforcement and, according to a U.S. Customs and Border Protection spokesperson, is what CBP officers fired into crowds of men, women and children at the U.S. southern border on Sunday. "A lot of children fainted. My daughter also got hit. There were pregnant women there and a lot of older men, too," a witness told the Washington Post on camera on Monday.
These agents are chlorine-containing compounds that blow into the air as a fine particulate. "They are actually dispersed by burning and deposit on the skin or clothing and can persist for a while," Jordt says. "They chemically react with biomolecules and proteins on the human body," which can cause a severe burning sensation.
These agents are rarely lethal, Jordt says, but deaths have occurred in cases where they have been used improperly—like a canister fired directly into a crowd and causing head or body injuries, or into confined spaces where people cannot escape. Children are particularly at a high risk for injuries from these agents, Jordt says, because they are so small. "They are shorter, and there are increased concentrations are near the ground. They also have a smaller body surface and lungs so the potential for injury is higher," he says.