We published one professor's account of student entitlement, and the response from readers was enormous. Here, we share replies from other educators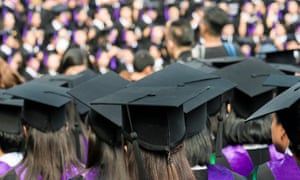 "If you think corruption in elite US college admissions is bad, what happens once those students are in the classroom is even worse," wrote an anonymous professor in the Guardian this week.
The professor argued that beyond the shocking lengths parents will go to get their children into top schools, the influx of unskilled and entitled students is ruining the college experience itself: monopolizing faculty time and creating a palpable strain on the system. "The presence of unqualified students admitted through corrupt practices is an unmitigated disaster for education and research," they wrote. "Students who can't get into elite schools through the front door based on academic merit don't change once they're in class. They can't do the work, and are generally uninterested in gaining the skills they need in order to do well."
The piece sparked a wave of responses from readers, many of them professors in the US and around the world. With permission we have published a selection, which have been edited for clarity and brevity.
Kevin McLin
University professor, San Francisco
I have never taught at an elite university, but I have taught at several state schools. Many, perhaps most, of these students are also unprepared for college. They lack the academic skills that students should learn in high school, and in some cases, middle school. This is because our public schools are no longer doing the job they are supposed to do.
Additionally, we are trying to cram more students through college despite our lack of financial support for the K12 and public higher-ed system. We simply are not educating a huge number of Americans. This has been going on for generations. It's nothing new and probably started in the late 80s or early 90s. It has become worse over time, though there are large variations from state to state. That is the real untold story. Focusing on the elite schools seems more like a distraction.
Anonymous
Education administrator, United Kingdom
I studied at undergraduate and postgraduate level at a UK institution and subsequently joined the university as an administrator over a decade ago.
The experiences of the academic writing are representative of issues across the sector and are not solely limited to unqualified students. Despite having increased the academic requirements for places on courses, a faculty within our university has recently restructured their first year of teaching to focus on helping students develop skills to enable them to study at undergraduate level, as new students seem woefully underprepared to pursue independent study. The academic blames the target-setting at secondary-level education, suggesting that students are taught to "parrot and regurgitate" the set syllabus in order to pass exams rather than receiving an education that values critical discussion and independent thought.
This is exacerbated by a growing feeling amongst students that they are entitled to a 2:1 degree as they have paid fees, rather than as a result of their academic performance. In the end, standards drop, educational quality declines and all parties involved feel incredibly frustrated.