Election seen as referendum on president's policies, with critics of the government fearing president's grip on power will tighten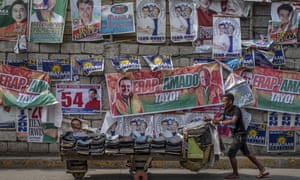 Filipinos have started voting in midterm polls that are being seen as a crucial referendum on Rodrigo Duterte's brutal crackdown on illegal drugs, unorthodox style and contentious embrace of China.
The poll is expected to strengthen the controversial president's grip on power, paving the way for him to deliver on pledges to restore the death penalty and rewrite the constitution.
Duterte has found international infamy for his foul-mouthed tirades, but remains hugely popular among Filipinos fed up with the country's dysfunction and elite politicians.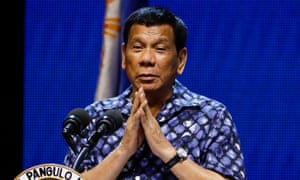 More than 18,000 seats, including half of the seats in the Senate, are at stake, with 61 million Filipinos going to the polls from 6am.
For Duterte, the key is wresting control of an independent-minded Senate while keeping the House of Representatives in the hands of his allies. All eyes are on the 12 Senate seats up for grabs, where government critics fear Duterte's handpicked candidates will dominate.
"It could give Duterte the numbers to pass the death penalty, impeach and convict vice president Leni Robredo and concur in the ratification of a treaty that onerously favours China," said Antonio La Viña, constitutional law professor in the University of the Philippines.
Duterte is a vocal advocate of the reimposition of death penalty in the predominantly Christian country. Activist and nun Sister Mary John Mananzan said bringing back the death penalty would be "reprehensible".
"I hope they do not dominate Senate at all. If they do, then they are dominating everything already. What are we? We are no longer a democracy. We will go back to People Power," said Mananzan, referring to the 1986 movement that toppled dictator Ferdinand Marcos.
Mananzan said the country, already reeling from thousands of people killed in Duterte's brutal campaign against illegal drugs, could spiral into further violence.
"As we all know, death penalty doesn't diminish the crime. Who are they going to kill? It's the poor people who will be killed because they won't have access to lawyers. It is really an all out war on the poor," she said.