Left- and rightwing demonstrators marched again in Oregon, leading to blocked traffic and skirmishes with law enforcement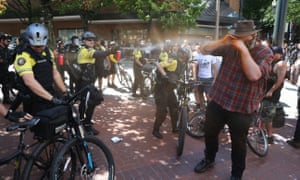 Police declared a civil disturbance in Portland, Oregon, on Saturday afternoon, after a day of duelling political protests culminated in brawls and standoffs between demonstrators and law enforcement.
By 3pm more than 400 leftwing marchers had blocked traffic in parts of downtown. Demonstrators occupied streets adjacent to Pioneer Courthouse Square, where police repeatedly warned them to disperse. Some were involved in altercations with officers in riot gear who deployed pepper spray and made three arrests. Others clashed intermittently with rightwing protesters.
The leftwing march evolved from an early afternoon rally in a downtown park organized as a counter-protest to two rightwing events. The rally organized by local group PopMob began as a vegan milkshake-themed rally and dance party, in response to rallies announced by the Proud Boys and by a group led by Haley Adams, a local rightwing figure. Adams' event attracted around 25 people.
Milkshakes, recently used around the world as a symbolic weapon against prominent figures on the far right, became a theme of the day. Portland police claimed without offering evidence that some milkshake cups had been filled with quick-drying cement.