The leading hypothesis for the appearance of deadly lung problems does not fit with all presentations of the illness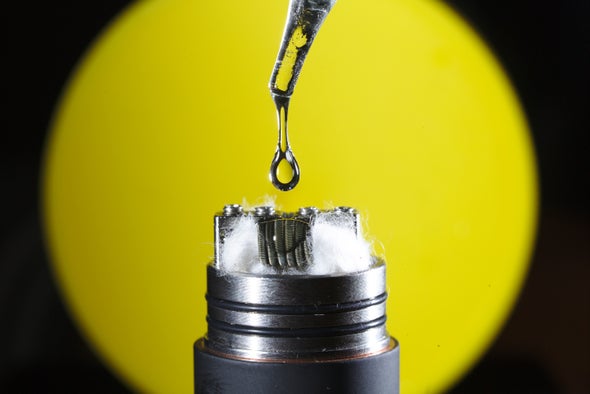 Experts remain perplexed about what is causing the nationwide outbreak of mysterious vaping-related lung disease that has affected hundreds and killed at least six people. And even the nature of the disease itself is confounding clinicians and public health officials. The only certainty, they say, is that people should not be vaping anything until they figure it out.
The sigh of relief was almost audible after news emerged in early September of a named culprit: vitamin E acetate. But the U.S. Food and Drug Administration soon dampened that enthusiasm, noting that not all tested samples even contain the oily substance. In fact, no candidate substances have consistently turned up across samples so far.
And then there is the question of what people are actually vaping: although most cases involve pods containing THC (the active ingredient in cannabis), not all of them do. Vaping-product manufacturers have sought to distinguish their goods from counterfeits acquired on the street and to blame the latter, but investigators have not yet confirmed the provenance of many of the products involved in the disease. In a good chunk of cases, patients say the one they vaped contained only nicotine. Although it is possible patients do not want to admit to THC use in states where it is not decriminalized, there is no evidence they are lying.
Mired in all of this mystery are the hundreds of occurrences of a puzzling and sometimes lethal respiratory illness whose only commonalities are that stricken patients recently vaped and they are all in the U.S. or its territories. Even the name of the condition remains a matter of debate. All of this confusion "is the strangest part," says Sean J. Callahan, a pulmonologist at the University of Utah. Callahan, who has treated several patients with the mystery illness, says, "The heterogeneity just makes it really tough" to find a common cause.
When the initial patients in this outbreak turned up in U.S. emergency rooms in April, they did not trigger a blip in public-health radars. Wisconsin and Illinois and their shared border region look like hotspots for cases and could provide clues to what is causing them. As patient numbers grew, the geography of the outbreak expanded, first largely affecting states that are contiguous with Wisconsin and Illinois and then other states bordering those. As of September 12, the U.S. Centers for Disease Control and Prevention had reported at least 380 confirmed and probable cases in 36 states and the U.S. Virgin Islands. The agency announced on September 16 that it had activated an emergency operations center in reaction to the outbreak.
But oddly enough, the disease seems to have stopped cold at the Canadian border, despite its proximity to Wisconsin.* In response to a query about this apparent dividing line, a spokesperson for Health Canada, the country's national health agency, pointed to its tough laws around vaping, which prohibit all sales of such products, with or without nicotine, to people under the age of 18 and strictly control their promotion at point of sale and even on social media. Canada is also stepping up enforcement and compliance programs.