On Friday 19 October, 1934, the passenger plane Miss Hobart fell from the sky to the sea.
Eight men, three women and a baby boy fell with her, swallowed – it's believed – by the waters of the Bass Strait that lies between Tasmania and mainland Australia.
The plane's wreckage was never found.
One of those on board was a 33-year-old Anglican missionary, Rev Hubert Warren, who had been travelling to his new parish in Enfield, Sydney. His wife Ellie and four children had stayed behind, intending to follow by boat.
The reverend's last present to his eight-year-old son, David, had been a crystal radio set that the boy treasured deeply.
As a boarder at Launceston Boys' Grammar School in Tasmania, David Warren tinkered with the machine after lessons, learning what made it work. He charged friends a penny to listen to cricket matches, and within a few years was selling home-made copies at five shillings each.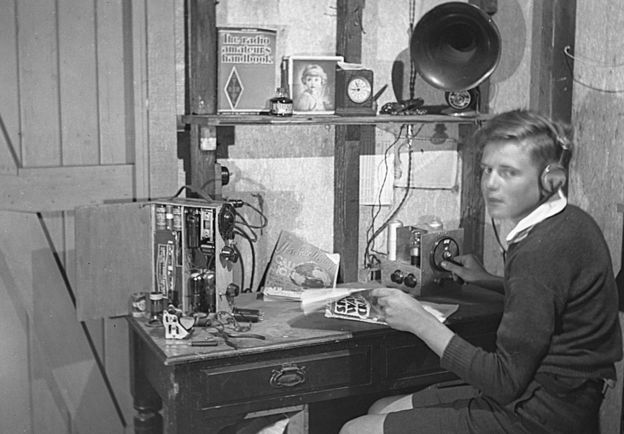 Young David was charismatic and a wonderful orator – a boy with star quality. His family, who were deeply religious, dreamed he would become an evangelical preacher.
But that was not to be. The gift from Rev Hubert, Man of God, had launched a love affair with Science.
It would prove to be of life-saving significance.

By his mid-twenties, David Warren had studied his way to a science degree from the University of Sydney, a diploma in education from Melbourne University and a PhD in chemistry from Imperial College, London.
His specialty was rocket science, and he went to work as a researcher for the Aeronautical Research Laboratories (ARL), a part of Australia's Defence Department that focused on planes.
In 1953, the department loaned him to an expert panel trying to solve a costly and distressing mystery: why did the British de Havilland Comet, the world's first commercial jet airliner and the great hope of the new Jet Age, keep crashing?
He thought it might be the fuel tanks; but there were dozens of possible causes and nothing but death and debris as evidence. The panel sat down to discuss what they knew.
"People were rattling on about staff training and pilots' errors, and did a fin break off the tail, and all sorts of things that I knew nothing about," Dr Warren recalled more than 50 years later.
"I found myself dreaming of something I'd seen the week before at Sydney's first post-war trade fair. And that is – what claimed to be the first pocket recorder, the Miniphon. A German device. There'd been nothing before like it…"
The Miniphon was marketed as a dictation machine for businessmen, who could sit at their desks (or on trains and planes) recording letters that would later be typed up by their secretaries. David, who loved swing music and played the clarinet, only wanted one so he could make bootleg recordings of the jazz musician Woody Herman.
However, when one of his fellow scientists suggested the latest doomed Comet might have been hijacked, something clicked for him.
The chances that a recorder had been on board – and survived the fiery wreck – were basically nil. But what if every plane in the sky had a mini recorder in the cockpit? If it was tough enough, accident investigators would never be this confused again, because they'd have audio right up to the moment of the crash. At the very least, they'd know what the pilots had said and heard.
The idea fascinated him. Back at ARL, he rushed to tell his boss about it.
Alas, his superior didn't share his enthusiasm. Dr Warren said he was told: "It's nothing to do with chemistry or fuels. You're a chemist. Give that to the instruments group and get on with blowing up fuel tanks."