London, Paris, Moscow, Brussels, Ankara, Madrid and New York among cities taking extra precautions for end-of-year celebrations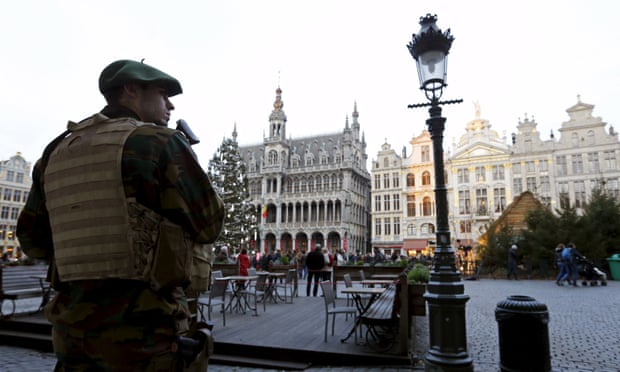 Brussels has cancelled its official celebrations, Paris called off an annual fireworks display on the Champs-Élysées and London increased the numbers of firearms officers on the streets as authorities across the world stepped up security measures for New Year's Eve.
Belgian police detained six people during house searches in Brussels on Thursday in an investigation into an alleged plot to carry out an attack in the city. Earlier in the week two other people were arrested on suspicion of preparing attacks on "emblematic sites" in Brussels during the celebrations. Another man was questioned over links to last month's Paris attacks.
Authorities said a firework display and festivities that attracted 100,000 people last year would not go ahead after revealing the alleged jihadi plot.
"Unfortunately we have been forced to cancel the fireworks and all that was planned for tomorrow [Thursday] evening," the mayor, Yvan Mayeur, told Belgian broadcaster RTBF. "It's better not to take any risks."
In Paris, where 130 people were killed by extremists last month, the annual fireworks display on the Champs-Élysées has been called off and 11,000 police, soldiers and firefighters will patrol the French capital. In all, 60,000 police and troops will be deployed across the country.
However, France's biggest public gathering since the atrocities will still go ahead on the Champs-Élysées.
Article continues:
http://www.theguardian.com/world/2015/dec/31/cities-around-world-tighten-new-years-eve-security-amid-terror-attack-fears