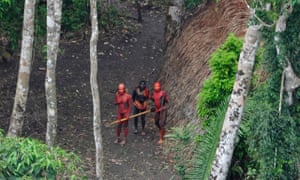 Brazilian authorities are investigating reports of a massacre of up to 10 people from an isolated tribe in the Amazon by illegal gold miners.
The killings, alleged to have taken place in Javari Valley, are claimed to have been carried out by men working for gold prospectors who dredge illegally in the region's rivers.
If proven, the murders would confirm that severe budget cuts to Brazil's indigenous agency are having deadly effects. The agency was forced to close two bases in the same region earlier this year. Investigators face a 12-day boat trip just to reach the area.
Pablo Beltrand, the prosecutor from the remote Amazon town of Tabatinga – near the Peruvian border and 700 miles from the Amazonas state capital, Manaus – said his team was first informed about the possible murders in the Javari Valley at the beginning of August. A fifth of Brazil's uncontacted tribes live in this wild region.
"We received a communication from federal government," he said. "The ongoing investigation is about the possible death of indigenous people."
Beltrand said he could not give more information about the inquiry but said that two men arrested recently in a police and army operation into illegal gold prospecting in the area were not connected to the case.