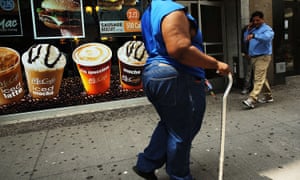 Cancers associated with being overweight or obese account for 40% of all diagnoses of the disease in the United States, an increasing share of all cancer diagnoses nationwide.
Although new cases of cancer have fallen since the 1990s, diagnoses of overweight- and obesity-linked cancers increased between 2005 and 2014, according to a new report from the Centers for Disease Control and Prevention. Being overweight is associated with increased risk for 13 types of cancer.
"When we step back and lump together all the types of cancer associated with overweight and obesity, we saw a direction upwards," said Anne Schuchat, deputy director of the CDC.
"That's not a smoking gun, but it's a note of caution for us."
Researchers at the CDC used data from the US Cancer Statistics database from 2005 to 2014, looking specifically at cancers the International Agency for Research on Cancer classifies as linked to being overweight.