Congressmen urge White House to release alleged recordings, as pressure grows for Jeff Sessions to appear publicly for Senate intelligence committee hearing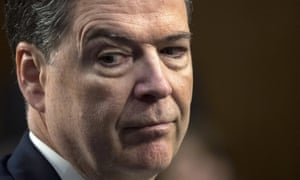 Days after James Comey's blockbuster testimony, both Republicans and Democrats on Sunday called for the White House to release any tapes that may exist of a private conversation between the former FBI director and the president.
Republican senator Susan Collins said she would support a subpoena to the White House to release any alleged tapes as Donald Trump launched new attacks on the fired FBI boss, saying he believed he was behind further leaks to the media.
There were also growing calls for the attorney general, Jeff Sessions, to appear in public when he goes in front of the Senate intelligence committee Tuesday, as it investigates Russian meddling in the presidential election. It is not yet clear if the hearing will be closed or open.
Speaking about suggestions that there may be tapes of Trump and Comey's disputed conversations relating to Russia, Collins said on CNN's State of the Union: "I would be fine with issuing a subpoena. But that most likely would come from the special counsel's office."
She said she hoped the president would release the tapes "voluntarily".
Trump and his aides have dodged questions about whether conversations relevant to the Russia investigation have been recorded. Pressed on the issue Friday, Trump said: "I'll tell you about that maybe sometime in the very near future."