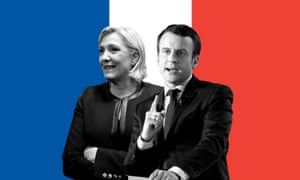 As the final week of the most unpredictable campaign for years approaches, we look at what the leading candidates stand for and which one is most likely to win
What's the story and why is it important?
France elects a new president in two rounds of voting on 23 April and 7 May. Polls have forecast for more than two years that the populist, nationalist, authoritarian Marine Le Pen will advance to the run-off.
The polls also suggest Le Pen, who has promised to take France out of the euro and hold a referendum on France's EU membership, would then lose to Emmanuel Macron, a former Socialist economy minister running as an independent centrist.
But the race is very tight. Both François Fillon, a former rightwing prime minister hit by an alleged corruption scandal, and Jean-Luc Mélenchon, a far-left veteran with a radical economic programme, could also make the final two.
In fact, with an estimated one-third of voters yet to make up their minds, polling inconsistencies and margins of error make it impossible to predict with certainty which two of the top four will face off in the final round.
After Britain's Brexit vote and the election of Donald Trump in the US, a President Le Pen would deal a heavy symbolic blow to Europe, send markets into turmoil, and be seen as the next step in a populist, nativist insurgency.
A victory for the Eurosceptic Mélenchon would also seriously shake the establishment, while a Macron win could – after the defeat of Geert Wilders in March's Dutch elections – point to a future for centrist, pro-European politics.
Source: French elections: all you need to know | World news | The Guardian