The economy was stronger in 2016 than several previous election years
Here are six charts that illustrate the economy that Trump — who wants to focus on "jobs, jobs, jobs" — will inherit from President Barack Obama and how it compares with historical standards.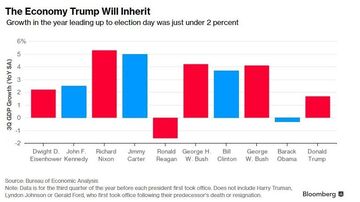 Gross domestic product is chugging along, growing at a 1.7 percent pace in the year through the third quarter. That's slower than what most prior administrations faced, and comes against a backdrop of weak global demand, aging demographics and tepid corporate investment. Trump has said he's aiming to achieve 3.5 to 4 percent average annual growth, even as real GDP expansion is projected to average just 2.2 percent next year and 2.3 percent in 2018, according to economists.