Francis stands firm amid a tide of Donald Trump-fuelled xenophobia in the presidential campaign but pontiff challenges some progressive views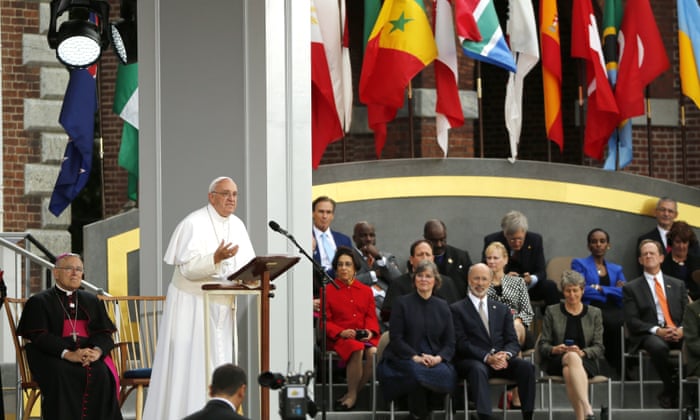 Pope Francis has channelled the spirit of America's founding fathers to make an impassioned embrace of immigrants and cultural diversity, insisting that newcomers to the United States must not be ashamed of their traditions.
Speaking on Saturday from the Philadelphia hall where rebels gathered in 1776 to assert their freedom from Britain, the pontiff told a crowd of thousands that immigrants brought "gifts" which helped to "renew" the US.
"I ask you not to forget that, like those who came here before you, you bring many gifts to your new nation," the pope said before an estimated 24,000 people gathered at Independence Hall. "You should never be ashamed of your traditions. Do not forget the lessons you learned from your elders, which are something you can bring to enrich the life of this American land."
It was a strong rebuff to the Donald Trump-fuelled xenophobia roiling conservatives on the presidential campaign trail, and stalling immigration reform efforts in Washington.
While declining to fully indulge conservatives on issues across the spectrum of the modern US culture wars, the pontiff also challenged some progressive views by denouncing discrimination against religion and making a veiled criticism of abortion.
"Religious freedom certainly means the right to worship God, individually and in community, as our consciences dictate," Francis said. "But religious liberty, by its nature, transcends places of worship and the private sphere of individuals and families."
After journeying to the centre of US power, in Washington, and commerce, in New York, the pope used his first day in Philadelphia to invoke US history.
Article continues:
http://www.theguardian.com/world/2015/sep/26/pope-francis-philadelphia-independence-hall-speech