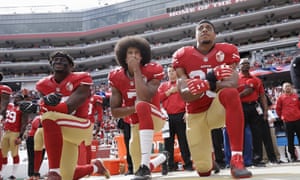 Did you notice that during the playing of the Star-Spangled Banner, Philadelphia Eagles player Malcolm Jenkins firmly raised his fist, as a symbolic gesture of black opposition to various forms of systemic oppression? No? Did you see Rodney McLeod and Chris Long alongside Jenkins in solidarity with the cause in which he is standing for? No? You are not alone. Viewers at home did not see any of this – not by accident, but by design.
Fox kept the cameras off of the players, blacking out their protest against racial injustice. While Fox screened an interview before the game with a black player – Michael Bennett – about why he was protesting, the fact that the network hid the actual protest irked many NFL fans.
I understand that we are talking about the same Fox network, whose earliest successes came via shows like America's Most Wanted and Cops. Programs that served not only as cheap forms of first generation Reality TV, but they also were highly effective at spreading uncritical narratives of the police as being heroic public servants, that viewers could watch on a weekly basis, cemented as dependable good guys always catching the deviant bad guys.
The birth of Fox network – having the power to carve out space to create Fox News –was an offshoot of Rupert Murdoch's decision to build a television empire around his 1993 $1.6bn purchase of the rights to broadcast the NFL's NFC games from CBS.
Murdoch exclaimed: "We're a network now. Like no other sport will do, the NFL will make us into a real network." And Murdoch predicted: "In the future there will be 400 or 500 channels on cable, and ratings will be fragmented. But football on Sunday will have the same ratings, regardless of the number of channels. Football will not fragment."