Exclusive: SurveyUSA data suggests Sanders voters could help Clinton recapture young people, union members and critical midwest and north-east states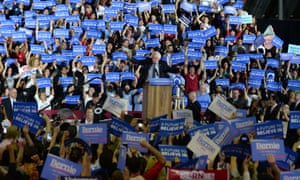 Nearly six times as many Bernie Sanders supporters are prepared to shift their support to Hillary Clinton than vote for Donald Trump in November, according to an exclusive new poll which suggests Democrats are in a strong position to convert energy from their passionate primary contest into general election success.
However, the research, conducted by SurveyUSA for the Guardian, also shows that if Sanders were to find a way of staying in the presidential race, it could hand the White House to Trump, who would beat Clinton by three percentage points in that scenario.
Carried out the day after the California primary, the polling news comes amid residual pressure from some Sanders supporters for him to continue his struggle – either as an independent or perhaps by replacing Jill Stein, the Green party candidate, on that party's ticket.
But the survey of 1,408 registered voters reveals limited appetite for this option, which would split the progressive vote. Presented with a four-way choice of Trump, Clinton, Sanders and libertarian Gary Johnson, 35% would vote for the presumptive Republican nominee, versus 32% for Clinton, 18% for Sanders and 4% for Johnson.
Yet when Sanders is removed from the equation and voters are offered the more expected lineup of Trump, Clinton, Stein and Johnson, it is the presumptive Democratic nominee who emerges on top with 39%, followed by Trump on 36%, Johnson at 6% and Stein on 4%. Only 5% of respondents told pollsters they would "stay at home and not vote" in this scenario.
The lead for Clinton over Trump mirrors other recent polling which suggests the former secretary of state is again pulling away from her Republican challenger after a week in which his comments were described as racist by the House speaker, Paul Ryan.