The trial of police officer facing the most stringent charge centers on a practice that's likely to expose someone to serious physical injury – or in this case death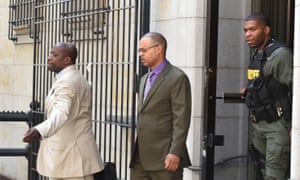 Freddie Gray was shackled and loaded into a police van on his stomach with his hands cuffed behind his back on the day he was arrested last April. He was not strapped with a seatbelt, in violation of police department policy. Some allege that driver Caesar Goodson intentionally took sharp turns, allowing Gray's body to be thrown around without the ability to hold himself steady.
It's what Baltimoreans call a "rough ride". The practice that came to light with Gray's death last year will be at the center of the trial of Goodson, who faces the most severe criminal charges of all six officers – second-degree depraved heart murder.
"I anticipate the prosecution introducing testimony and witnesses to explain the practice, the common practice, of van drivers giving prisoners being transported the 'rough ride' or the ride that's likely to expose them to serious physical injury or in this case death," said University of Maryland law professor Douglas Colbert.
Over the past several decades Baltimore has paid out millions of dollars, settling suits alleging injuries from "rough rides". But Goodson's trial starting Thursday will put the practice to a new test of criminal liability.
To convict Goodson of second-degree depraved heart murder, the state will have to show not only that Goodson caused Gray's death while transporting him to the police station, where Gray was found unconscious in the back of the van, but it will also have to show Goodson's state of mind – that he was "conscious of the risk" and "acted with extreme disregard of the life-endangering consequences".
The van stopped six times and Goodson was the only person, besides Gray, who was at each of the stops. Dr Carol Allan, the medical examiner, likened Gray's injury to one caused by a dive into a shallow swimming pool. Gray died a week later of a spinal injury the medical examiner says he sustained in the van.
The case may also be state's attorney Marilyn Mosby's best shot at a conviction after two trials that haven't yielded one.